As educators we should help facilitate goals and help cast a vision for students that will, not only, stretch their imaginations, but also their beliefs regarding what is possible…    -Sam Pabon
This quote ties in closely with Pleasant Union's vision to create a safe, supportive learning environment that inspires students to attain personal success by becoming inquisitive, confident 21st Century learners.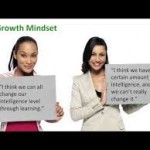 In order for this to happen we believe that staff and students should have a "growth mindset".  What does that mean?  The image, courtesy of CRAfT Educational Videos paints the thought that all of us can change our intelligence through learning.
Have you ever heard your son or daughter get caught in the "I'm not good at this." or "This is too hard" or better yet "I just can't do math." syndrome?  Carol Dweck, author of the book Mindset states, "Students who believe their intelligence is simply a fixed trait fare more poorly, especially as school becomes more challenging, than students who believe their intellectual abilities can grow."  That being said, it is important that educators, students and parents encourage a growth mindset which can enhance the process and persistence toward completion of the task.  Dr. Julie Schell, Director of OnRamps and Strategic Initiatives at the University of Texas in Austin shares in "Helping Students Learn: Growth Mindset" examples that we can all use to encourage students toward a growth mindset.  The TED Talk The Power of Belief-Mindset and Success: shared by Eduardo Briceno goes further to share research studies on how mindset is not only the source of success in school but, carries over into athletics and life in general.
Want to find out more?  Go to:
Great things are going on at Pleasant Union this month:
Spooky Science/Pizza Dinner Family Fun Night, Thursday, October 23 Dinner @ 6:15, Program 7:00
Veteran's Arts Night, Monday, November 10, 6:30-8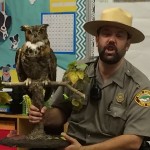 Welcome to our new second grade teacher, Mr. Jason Lamanna.  Stop by and share a big Pleasant Union welcome.
Thanks to "Ranger Greg" Orcutt for sharing an outstanding habitat presentation with our first grade classes October 3rd.  We all learned some new information from his talk.
Remember that there is an Early Release this Friday, October 17th.  Dismissal is at 1:15.